On Saturday 6th May 2023, history will be made in London, England. King Charles III, the eldest son of the recently deceased Queen Elizabeth II, will be crowned the new head of State and the Commonwealth – the latest of a line of British monarchs.
At 73, Charles III is the oldest of British monarchs to ascend to the throne. Before him, William IV had held this record, becoming king at age 64 when his brother George IV died on 26th June 1830 without any surviving legitimate offspring.
But even while Charles holds the distinction of being the longest-living heir apparent in British history, it is still a role he has been preparing for all his life.
From his birth, Charles Windsor was destined to be king. But this was not the case for the list of monarchs before him. Instead, it was only by a sudden shift of fate that several of England's 63 kings and queens found themselves wearing the royal crown.
The Road to Succession Never Runs Straight
The rules of royal succession are very precise, but in reality, the road to the British throne has not always run straight. Alongside wars and seized crowns, many UK monarchs who were either so far down the line of succession or saw themselves as the "spare" rather than the "heir" suddenly - and often surprisingly - found themselves in the royal spotlight.
King Henry I
The history of British monarchs stretches back to the 9th century, when Egbert, the son of Eahlmund, a short-lived ruler of Kent, forged a more permanent role of royal ruler in Anglo-Saxon England.
But in 1066, William the Conqueror successfully invaded England. Seizing the crown from Harald Godwinson at the Battle of Hastings, he established a Norman dynasty on British shores, ensuring that all British monarchs from there on would be his direct descendant.
Though William had four sons, his first heir died while he was still king. Thus, on his deathbed, he accorded the Duchy of Normandy to his eldest surviving son, Robert, and the Kingdom of England to his third son, also named William.
His younger son Henry was granted a generous amount of money to buy land in England, where he could live comfortably.
However, King William II, much disliked, would meet a sticky end while out hunting in Hampshire, and Henry would be forced to move quickly to secure the throne. As a result, William's youngest child, never destined to be ruler, would find himself crowned King Henry I of England on 5th August 1100 CE.
King Edward II
The 13th-century king, Edward II, was also the youngest son of the reigning monarch. With 14 siblings already born to King Edward I and his first wife, Eleanor of Castille, the likelihood of their third youngest child ever wearing the crown should have been slim.
Yet only five of the young prince's sisters survived into adulthood, and none of his brothers, leaving the path to the throne wide open for Edward II's later 20-year reign.
King Henry VIII

Even Henry VIII, one of the most famous of British monarchs, was never supposed to accede to the throne. But the death of his elder brother, Arthur, when Henry was only ten years old meant that the young Tudor was added to the list of monarchs – changing the history of England forever.
Under Henry VIII, England broke from the Roman Catholic Church, declaring the King, and all future UK monarchs, supreme head of the Church of England and kickstarting the English Reformation.
Henry's children, Edward VI and Elizabeth I, would consolidate the Reformation, which in itself would finally lead to the Thirty Years War. Probably the most devastating war in Europe between the Holy Roman Empire's Catholic and Protestant states.
King George V
In more recent times, Charles III's mother, Queen Elizabeth II, as well as his maternal grandfather George VI, and even his great-grandfather, King George V, were not, at the time of their births, considered prospective British monarchs.
King George V was born Prince George Frederick Ernest Albert, the second son of Edward VII (then Albert Edward, Prince of Wales) and Queen Alexandra, on 3rd June 1865. He had not expected to be king and trained for a career in the navy. When his 28-year-old elder brother Albert Victor died from influenza during the 1889–92 pandemic, he was thrust into the direct line of succession.
He was proclaimed King George V following his father's death on 6th May 1910. He would rule over 26 turbulent years, including much industrial unrest in Britain, the rise of the suffragette movement, the horrific First World War, and the rise of fascism in Europe.
King George VI

While contending with all of this, King George V was also unhappy that his eldest son Edward, known as the "playboy prince", showed no signs of adopting the commitment or seriousness necessary for the role of king.
As it turned out, Edward VIII would only sit upon the throne for 325 days, abdicating his role on 10th December 1936 to marry his lover, American divorcee Wallis Simpson. This forced his shy younger brother, George, to become the reluctant ruler of the state just a couple of days before his 41st birthday.
King George VI (pictured) was already married to Lady Elizabeth Bowes-Lyon, and they had two daughters. Their first child, Princess Elizabeth, was born in April 1926, while Princess Margaret arrived four years later.
Lady Elizabeth, later known affectionately to all as "the Queen Mother", would become the rock the king could lean on to succeed. When she died in 2002 at the age of 101, The New York Times wrote in her obituary that she was "the strength behind the throne, helping transform [George VI] from a stammering, insecure second son into a loved and respected monarch".
King George died in 1952, and his eldest daughter Elizabeth, who had found herself in line for the throne as soon as her uncle Edward abdicated, was crowned Queen on 2nd June 1953 and added to the list of list of British monarchs.
Queen Elizabeth II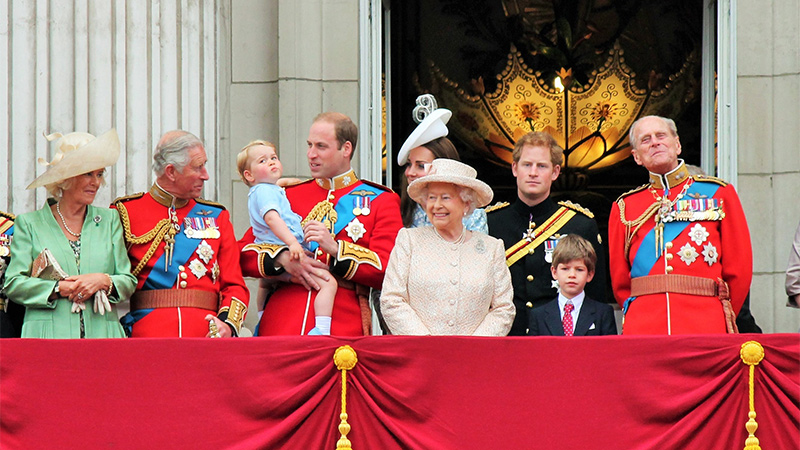 Elizabeth II would reign as Queen of the United Kingdom and other Commonwealth realms until her death in 2022. Taking the mantle as the longest reigning of British monarchs from Queen Victoria, who ruled for over 63 years. Elizabeth II would remain on the throne for 70 years and 214 days.
As her firstborn child (above), Charles, automatically stepped into the line of succession as heir to Britain's crown. When he was three years old, the young royal became the Duke of Cornwall and, at the age of 20, was bestowed with the title Prince of Wales.
Now, 50 years later, having spent a lifetime in public service, knowing he would one day he would find his name on the list of British monarchs, he will finally bear the title and honours he was born to – that of His Majesty Charles III, King of the United Kingdom, and Head of the Commonwealth.
If you want to learn more about Britain's kings and queens, our History of the British Monarchy Diploma Course is available now for just £29 (save £98!).