"For the first time ever I was a stay at home mum. It was really frustrating, I wasn't very patient, and I just felt I was useless. I wasn't needed at work, I wasn't needed at home, and I just had an urge - it's quite inexplicable – I needed to make something with my hands. I wanted to be able to point at it and say that's what I made, that's what I produced today."
Judit has her most recent knitting project, a brightly-coloured jumper, in her lap while she speaks to me about how she started her knitting business. She's wearing another of her creations - an orange jumper with intricate cabling down the front.
She began to knit when she was made redundant. Now she runs her own business - a retail shop that's been online for over two years. But she tells me that her favourite part of her knitting business is teaching. She's taught children (including a scout group), adults, elderly people and groups with mental health problems. She tells me that she feels it's very important that we, as humans, find our creative outlet. There's creativity in all of us, we just need to find it.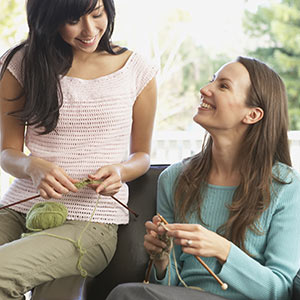 Part of her knitting business is a knitting group that's open to all. She has a whole range of people coming to that. The youngest is nine and she has lots of people in their twenties and older women who have been knitting their whole lives but enjoy the social element of knitting in a group. I remember my conversation with Betsan about the therapeutic benefits of knitting. She told me about how knitting can help you meet new people and feel more comfortable in social situations.
"It is one of the few things you can do at the same time as chatting and maintaining eye contact - but you can also choose to sit and knit quietly if you are feeling vulnerable. It puts you in control of how much you participate in the group."
We're actually chatting in the RBS building in Bishopsgate. Judit has a new job now and runs her knitting business on the side. But she takes her knitting to work with her too. She explains that she doesn't have a very creative role – she works in finance and it's statistical, analytical, without grey areas. But with knitting she has control. I could say, here is a pattern and I actually don't want to knit it like that, I want to knit it like this. I had control over it and I could make it my own and make it me.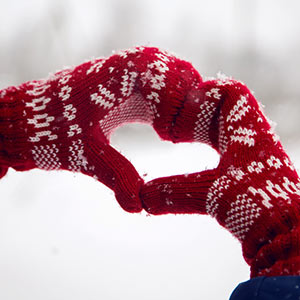 She's even been known to knit on her conference call. She says that keeping her hands busy with some straightforward stitches helps her concentrate better.
I finished by asking Judit how she feels when she's finished a project. Usually I have a childish sense of achievement and pride and I have to take photos and send it to friends and say 'look this is what I've done'. We all know that feeling – but when you can make money out of the thing you love best, that must feel even better.
At the time of publishing, entering the code NEEDLES39 at checkout will reduce the price of our
Knitting Diploma Course to £39.