I knew Lauren Roffey when she was baking her way through the stress of a PHD in Norwich. Then she would turn out beautiful cakes and biscuits and update her blog with pictures and recipe tips.
Four years later she is the owner of Baked – a social enterprise in Worthing that was recently awarded a Trip Advisor Certificate of Excellence. I spoke to her about why and how she decided that a cake shop was her calling. Here's what she told me: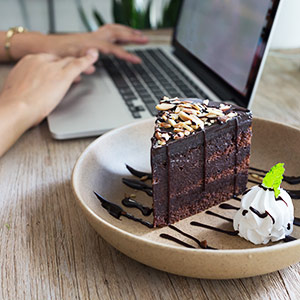 "Baking was just a hobby for me at first, escapism really, something completely separate from the world of political theory. But when I finished my research and headed back to my hometown of Worthing, I had to work out what to do next. More research, teaching and civil service jobs didn't really appeal. And when my sister announced she was pregnant that gave me even more of a reason to stay local. I wanted to do something I loved, something hands on, working with and mentoring young people and making the world a little better.
"That's when Baked was born. It's a coffee and cake shop but it's run as a social enterprise. That means we use the power of business to make positive social change. We're a café but we also provide young people with training, skills and development opportunities, provide meeting spaces for local groups and support local businesses. And we reinvest our profits back into these community ventures. For example, we've been opening as a space for budding young chefs to run pop up nights – like Charlie Lazlo's Bun N Meat night. It's totally led by young people but we are there to offer support. We've also been running practical cookery workshops for young people and opening for poetry and music nights.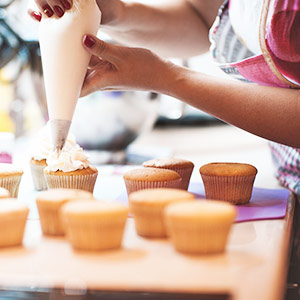 "There was a lot to think about to get the cake shop started – loans, learning about the finance side of the business, finding and fitting out premises, recruiting young employees, making cakes, learning how to make coffee – all sorts. There were real highs and lows – but I blogged about it all, building our supporters and social media profile from the very start.
"We tried to involve the community at all stages as much as possible. We advertised for a young artist to decorate our wall, asked a local group to make our tables in exchange for a lot of cake and successfully crowdfunded for the final set up costs.
"And on Monday 15th August 2014 we opened the cake shop! Since then we've built amazing links with the local youth services, the community and our suppliers. We've started making celebration cakes and festive hampers, running workshops on social enterprises and opening our space to more pop-up restaurants and street food vendors – all aged 18-24 of course."